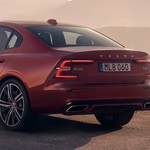 Looking for a luxury sedan with top interior features? One of the best small luxury sedans available today is the Volvo S60. This top sedan brings you a high level of comfort and tech features in its interior. Here are some of the top interior features found on the S60.
When you are behind the wheel, you want to make sure that you have the information that you need. That's why the Volvo S60 comes with an advanced 12.3-inch digital instrument cluster display. This advanced display system can be configured to your specific preferences.
To ensure that you are better connected with the latest information, the S60 also comes standard with a powerful 9-inch touchscreen system. With this system, you will be able to quickly access the music, navigation, and new information that you need. These are just two of the many top interior features available on the Volvo S60.